Post-Poo Drops has returned
Here to make the malodorous melodious once again. Dispense this favoured formulation into the toilet bowl after flushing to effectively mask disagreeable odours.
Discover Post-Poo Drops
Post-Poo Drops 100mL

An aromatic bathroom deodoriser with a refreshing citrus aroma that combats unwanted smells.

---

Aroma

Citrus, floral, fresh

---

Key Ingredients

Tangerine Peel, Ylang Ylang, Mandarin Peel

Dispense one pipette into the toilet bowl after flushing.

Remove 60mL

A gentle, lightweight oil for removing makeup around the eyes.

---

Suited to

All skin types

---

Skin feel

Cleansed with sustained finish

---

Key Ingredients

Grape Seed, Tocopherol, Blue Chamomile

Apply five to seven drops to a damp cotton pad and press into skin around the eyes to dissolve makeup. Repeat as needed.

Dosage

Five to seven drops

---

Texture

Lightweight oil

---

Aroma

Herbaceous, floral, nutty

Reverence Duet

Two favoured formulations with a warm and woody aroma to cleanse and nourish hands.

---

Contents

Reverence Aromatique Hand Wash, Reverence Aromatique Hand Balm

---

An aromatic pair to thoroughly cleanse and hydrate hard-working hands.

Reverence Aromatique Hand Wash, 500 mL

Dispense one pump into damp hands; lather, then rinse thoroughly. Lactic Acid and finely milled Pumice effect mild exfoliation.

---

Reverence Aromatique Hand Balm, 500 mL

Follow with generous application of Reverence Aromatique Hand Balm, paying close attention to cuticles.
Cleansing for every body
Our fragrant, low-foaming body cleansers gently lift grime to refresh skin. Once or twice a month, use an exfoliating scrub to slough away dead cells and help maintain smooth, polished skin.
Discover the range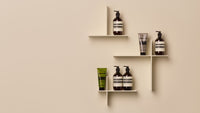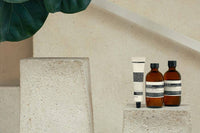 At your convenience
Since our 1987 inception, our objective has been simple: to provide a setting for unhurried conversations, and to find the right product for each person. Our product range is available to browse and purchase online from the comfort of home. Our official online store in the United Arab Emirates is hosted via Mizzen.
Our stores and stockists
We have stores and counters in cities of note across the world, each individually designed to delight all five senses and provide a calm, welcoming haven. In these spaces, we host our customer as a guest. We will be pleased to help you locate your nearest physical Aesop store or stockist.
Find a store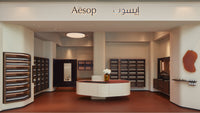 "Nature's music is never over; her silences are pauses, not conclusions."